23 July 2003
Recently we have attended quite a few parades. These have included
Drumderg FB Keady (12 fluters 5 drummers 3 colour party),
Stewartstown Battle of the Somme Commemorative Parade (14 Fluters 4 drummers 3 colour party),
The 12th July Battle of the Boyne Celebrations in Cookstown (16 fluters, 6 drummers, 4 colour party)
Blair Memorial, Omagh (10 fluters 4 Drummers 3 colour party)


18 June 2003


Here is a list of Parades that we have taken part in, Year to Date:


Dunamoney

Flute Band Magherfelt (14 fluters 6 drummers 3 colour party)


Kilcluney V

olunteers Flute Band Markethill (15 fluters 5 drummers 3 colour party)


Ballybriest Orange Hall

Re-opening (15 fluters 6 drummers 4 colour party)


Pomeroy (16 fluters 6 drummers 4 colour party)
Derrylee

Flute Band Moy (8 fluters 4 drummers 1 colour party)


Sons of William

Flute Band Cookstown (13 fluters 5 drummers 3 colour party)


Craigavon

Protestant Boys Flute Band Lurgan (14 fluters 4 drummers 3 colour party)>
1st June 2003
Last night our parade took place, There was an excellent turn out of bands and supporters. All in all there was £590 profit from the Street Collection and Barbeque. Many thanks to every one who supported us.
Saturday 22 March 2003
We are going to hold our Annual Band Parade
in Pomeroy , Co.Tyrone on Saturday 31st May 2003. Starting at 7.45pm, All Bands are to assemble at the Orange Field at 7.30pm. As in previous years we have found it difficult to get parading our Town. All support is much appreciated. Trophies will be in the usual categories.

27th January 2003
A 12ft by 12ft hole was left in one wall of the Moree Orange hall near Pomeroy following the early morning attack on Monday.
Extensive damage was also done to the roof of the building. Police said it was a deliberate act of destruction and they were keeping an open mind about a motive. But an Ulster Unionist councillor blamed republicans for the attack. Billy Armstrong, a UUP assembly member for Mid-Ulster, said: "It just looks as if someone was there to start to demolish the hall. "On Saturday night they had their Burns' supper and they thought they were able to exercise their culture - but it wasn't long until the nationalist-republican people of that area let them know this was only short-lived." The incident was reported to police shortly before 0600 GMT and a forensic examination is to be carried out later.
A spokesman for Moree Orange hall said the building had been attacked on numerous occasions in the past. "This Orange hall was only rebuilt in 1999 after being burned down on July 13, 1997 in an arson attack," he said. "In the previous times, there have been about six attacks on this hall - arson, stone throwing, minor attacks and major attacks."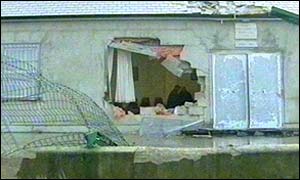 Tues 15 October 2002

As it is the end of the marching season there will be unregular updates. However, keep checking back for any latest news.


Tuesday 6th August 2002

The band look forward to leading Dungannon Volunteers ABOD at this coming Saturdays Annual 'Derry Day' Celebrations.


Thursday 1st August 2002

The band look forward to parading neighbouring village Donaghmore on Friday night as Ballymacall True blues hold their annual band parade. Good luck to Stephen and the lads.


Wednesday 31st July 2002

Just a quick note to say how much great it was to see Pride of Ballinran play at Windsor for the Linfield -V- Gers match. Great Display.


Friday 12th July

All members enjoyed a great day in Coagh. The thunder and lighning before hand added to it!!!!!


Saturday 30th June 2002

Five of our band members represented PTB/LOL 293 in Pomeroy Sports Jubilee Celebrations. Andrew, David, Gareth, Mark and Steven won the Mini-Commonwealth Games held in the Orange Field, Pomeroy. Sports included - Obstacle Course, relay, football, tug-of-war and many other...


Friday 29th June 2002

We attended Drumnacross Flute Band's annual parade in Cookstown. Good support and turnout of bands ensured a good night. A welcome to Marty who made a comeback on the base drum....


Thursday 27th June 2002

We attended the Jubilee celebrations in Castlecaulfield last night. Although we had a slow start, our numbers grew as we finished. Some of the members took part in tug-of-war and beat of local competition to finish runners-up.


Saturday 22nd June 2002

Last night we attended Drumderg Loyalist Flute Band Parade in Keady. Again we had an excellent turnout enjoyed the parade which was well supported. The band feel that its important to take a stand in troubled areas like Keady, as we know exactly what its like.


Friday 7th June 2002

We attended Kilcluney Volunteers annual Band parade in Markethill. we had an excellent turnout on parade, probably the best in a few years. The bus left Davisons Bar, Castlecaulfield and returned in the small hours.

Sunday 1st June 2002
Last night we held our annual Band Competition and Parade in Pomeroy. As in recent years we were unable to parade the main street. An enjoyable night was had by everyone in attendance. Kilcluney won best overall, Omagh Protestant Boys won Style and Appearance and South Fermangh Loyalist Flute Band won best visiting band. More news to follow.....


Friday 31st May 2002

The band look are looking forward to a busy weekend ahead. Tonight we are going to the Moy to take part in Derrylee Flute Band Parade. Tomorrow night is our turn. We are hosting our annual Band Parade and Competition in Pomeroy. Bands are to assemble at 8pm for an 8.30pm start. Many band members will be busy tomorrow preparing to get ready for the parade. We look forward to successful and enjoyable evening and welcome everybody to Pomeroy.


Monday 22nd April 2002

Some so-called Republican invaded our web site here and tried to delete it. However, as a precaution we always have back-ups made. Trying to destroy this site will not stop us putting forward our point of view.

Tuesday 9th April 2002
At long last something for the Local's. A small group recently applied for funding to build a Park that will allow residence to enjoy the use of a purpose built park. With the support of the Presbyterian church, and Cookstown Council, some residence will help to construct a park and play area for locals located beside the Presbyterian Church and behind the Church of Ireland Church Hall.

Saturday 30th March 2002
Irish Tri-colours have been erected in Pomeroy as we approach the Marching season. The flags which clearly NOT the flag of our country have been placed outside some and close to other Protestant houses within the town itself. Also, all sides in Pomeroy welcome the erection of new sign posts which will now be displayed in 'Ulster Scots'. Thanks to Moree Community Association for their Proposal.

Monday 25th March 2002
a few of the members of our band travelled to Enniskillen on Friday past to enjoy a cultural evening run by South Fermanagh Loyalist Flute Band. Platoon Roadshow played a host of cultural songs. Kilcluney Volunteers Flute Band also entertained the huge crowed for around half an hour. Much thanks goes to Keith and the members of SFLFB for the invite and great night.

Thursday 21st March 2002
Members of our band are going to a cultural night to be held in Enniskillen on Friday 22nd March. Kilcluney Volunteers Flute Band are playing along side many other artists.

Saturday 16th March 2002
We are holding our Annual Band Parade And Competition on Saturday 1st June 2002. This year we will also Celebrate the Queens Jubillee and there will be added attractions for all. Watch this space for updates on what is taking place.

Thursday 28th February 2002
South Fermanagh Loyalists Flute Band Enniskillen are the latest Band to launch a web -site. Please support other bands web sites by clicking on the link below:


South Fermanagh Loyalist Flute Band Web-Site



Sunday 24th February 2002
Coming soon, South Fermanagh Loyalist Flute Band Web site. Watch this space for developments.

Monday 18th February 2002
Band practice will re-commence on Tuesday 5th March 2002after the band having a three week break.

Tuesday 5th February 2002
Could any Band that has arranged their parade please let us know of its proposed date, location and starting time so that we can publish it on our site. You can do this by either sending us an email or by leaving a message on our Guestbook.

pomeroytrueblues@hotmail.com
orSign Guestbook

Tuesday 8th January 2002
Band practice re-commences, starting at 8pm every Tuesday.

Monday 24th December 2001
Seven of our bands fluters took part in some 'Christmas Carol Playing'. It took place in the Diamond area of Pomeroy beside the Christmas tree at around 7pm Christmas Eve. Some local supporters turned out to watch on and it is something which the band hope to build on for next year.

Thursday 20th December 2001
Some of the fluters from Pomeroy True Blues are planning to take part at a Fluting Carol Service to be held at the Christmas Tree in Pomeroy's Diamond area on Christmas Eve. All Guests are welcome.

Friday 30th November 2001
On Friday night we attended a Flute Band Concert and disco organised by South Fermanagh Loyalist Flute Band in conjunction with Mid-Ulster - Ulster Bands Association. There were five bands in total taking part:


Armagh True Blues Flute Band
Ballynahinch Protestant Boys Flute Band
Derrylee Flute Band
Drumconvis Flute Band
Pomeroy True Blues Flute Band
Each band was on display for approx. 15 mins each then followed by a disco. We had a great night and although we had to stop a few times on the way home due to a certain member being ill, we finally got to Pomeroy in the wee small hours of Satuday morning. The band would like to thank Keith and the band for a well organised and enjoyable night.
Friday 23rd November 2001
PTBFB.50megs.com receives Official Golden Web Award:

Tuesday 23rd October 2001
PTB to attend a band Concert organised by South Fermanagh Loyalists Flute Band Enniskillen. More Details to follow: (Watch this space)

Sunday 21st October 2001
Finally pictures are added of the sectarian intimidation from the IRA/Sinn Fein Residents Group. Have a look at our picture page and 'Our Parade' page. Interesting reading!!!

Also added are some pictures of our band both present and bygone days.

Thursday 18th October 2001
Our web site is now up and running two months. Within that time we have had over 1000 visitors. We have also added many features. in the next few months we hope to contine to add more features, pictures of the band and more on the bands history. Watch this space!!

Friday 28th September 2001
Band take bus to Enniskillen for the annual parade of South Fermanagh Loyalist Flute Band. It was and excellent night, and if any one saw us, knew that we enjoyed ourselves with different formations throughout the route, i.e. the SNAKE. Some new members were on parade and band is still looking for new members.

Tuesday 18th September 2001
New recruits ready to go on parade. They will be out for South Fermanagh Loyalists Flute Band Parade in Enniskillen on Friday 28th September 2001 (Bus Parade).

Friday 31st August 2001
We would like to extend our sympathy to the Burnside family of Ballymacall Flute Band Pomeroy in relation to a death in the family, which lead to the cancellation of their annual band parade for the second time this year.

1st August 2001
Nationalists in Pomeroy paint the kirb stones Green, White and Florescent Yellow, outside Orange Field in Pomeroy (Where the parade assembles) just days before our parade. However, an anonymous group of people removed this sectarian act hours before the parade took place. For details on our parade click here Our Parade.